I've been busy this week!  The demonstration watercolour is coming along at my Wednesday class, and I've been experimenting with the black and white watercolour pencils.
First the painting – the initial washes were well dry as it was a week since I worked on this painting.  This method of working strings out the painting time, but, adding up the actual time engaged comes to about 2 hours per painting, and that includes watching the paint dry.  It doesn't extend one's powers of concentration, though.
The work is mainly on the cottage on the left.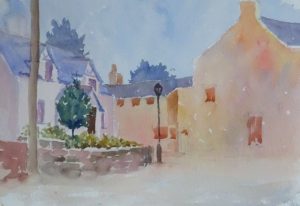 Using a darker tone of the cottage pink (Alizarin) and the browny orange of the other building , I indicated the windows, and introduced an idea of the Cheshire sandstone blocks in the wall at the front.  A bit of "Calligraphy" drew in the eaves, the lamp post and  the door, while the garden was splashed in using Viridian and Burnt Sienna in the tree and Viridian and Aureolin for the planting.  This is turning into a watercolour as opposed to a painting in watercolour!
Now for the black and white drawing.  I am thrilled to inform you that I did this freehand in the black watercolour pencil without any preliminary work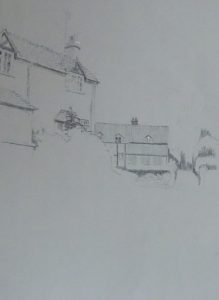 in ordinary pencil first.  It's another view of Farndon (I can see another project coming on!) looking across the little lane which figured in my recent oil.  Early days, of course,  and I don't know how this paper will be when I introduce water, but I am revelling  in my new found freedom with pencils.  I've started to use some white but think that most white will be in the garden.  What about a cloud?  I like the texture on the left hand roof, and am adventuring with the dark tree in the foreground.