You may remember I have quite a menagerie in my sitting room, as mentioned in my posts about the Honourable Giver of Contentment.  I have added to my aviary today by creating this kingfisher on the fire screen.
The screen is tall, not quite shoulder high, and has seem various incarnations over the years.  Originally I covered it with a piece of lace curtain and sprayed gold paint at it – very effective when the lace was removed.  Later I chose to  paint a stencil of Chrysanthemums, also in gold, enlarged from a lampshade design.  But this time, colour was needed and bird life is a theme (dragons can fly!).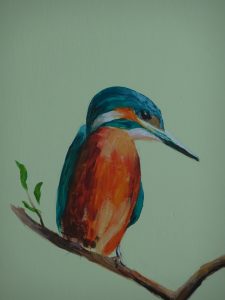 After all that concentration on watercolour, I have returned to acrylics.   This is a "one chance" painting – if I get it wrong, I'll have to repaint the entire screen again!
I started with a light pencil sketch (freehand, Yeh!!!)  then laid out my acrylics.  For some reason, I had no Prussian Blue, so used Cerulean Blue Dark and Phthalo Green to achieve bluey green.  The Cadmiums, Red and Yellow provided orange, shading with Burnt Sienna.  The markings and the colours are so distinctive that it's difficult to go wrong.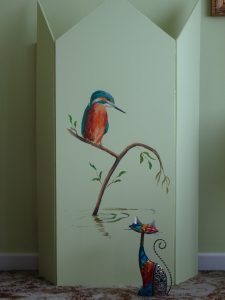 Here he is in situ with The Cat Person, sublimely oblivious of his presence, at his feet.  I'm not convinced by the branch, and I don't know how long it will be before I feel moved to do something about that!  However, with the Honourable Giver of Contentment on his left,  and the exuberant macaws on the curtains, he  (and pussy) sit well in the room.