I have completed the final two "treasures", so my Meander Book is now full.  I have used Impressionist artists as my inspiration, Degas and Van Gogh.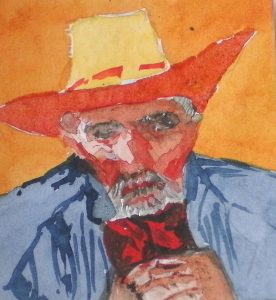 This well-known picture is renowned for its vigorous brush strokes, something hard to replicate especially as my painting is so small.  I've got the colouring reasonably well, even his very red face!  In fact, apart from the eyes, I think this is the best of the seven.  It's certainly the most cheerful, well away from the black backgrounds of the first few.
This Lady is from an unfinished pastel by Degas, called "Combing the hair".  It wasn't just the colour of the background which attracted me.  I liked the simplicity, the economy of mark.  The red hair against a red background is unusual, but it doesn't look hectic.  Maybe the pale mauve of her dress is a sufficient  counter-balance.
Here are my "treasures" and my book.