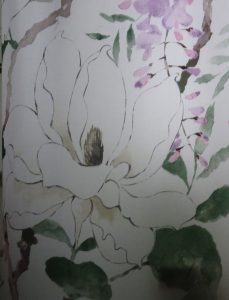 My big lockdown project wasn't a painting, or even a group of paintings.  As part of redecorating my bedroom, I have installed new curtains and I wanted a bedspread which agreed with them but wasn't wholly of the same cloth.  You can have too much of a good thing!  From surplus cloth I cut a motif of a flower and two birds.  These were not twitchy little things – one repeat of the pattern,  i.e., a branch of magnolia with only three flowers on it – practically went from floor to ceiling.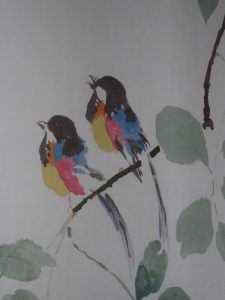 This motif I attached to the plain fabric of the aforesaid bedspread.  The original idea of using the zigzag stitch on my sewing machine, not surprisingly,  didn't work, as there was far too much cloth to wrestle with.  It would have to be attached by hand.
Now, I loath plain hand stitching but occasionally enjoy embroidery, so opted for embellishment.  The fabric frayed prodigiously so there was going to be lots of buttonhole stitch.  I also wanted to see which other stitches would inhibit fraying. As you can see the original design is a watercolour writ large.  Each bird is a handspan in height.  Embroidery would change that.  Certainly, I didn't want to paint with a needle, using long and short stitch to reproduce the design.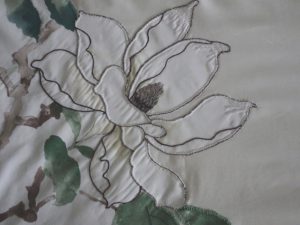 Here is what I managed.  The edge of the petals was buttonholed, but I did that in white and whipped the top of the stitch in a dark brown.  The centre of the flower is made of detached chain stitch, French knots and straight stitch, a not very close approximation of the real thing.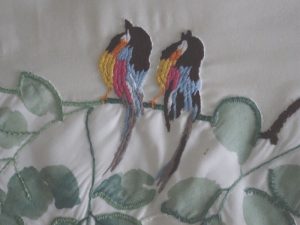 And here are the birds.  I don't know what you would call this stitch but I discovered it on one of my Mam's tray cloths.  They are altogether more substantial than their cousins on the curtains.
The finished piece looks like this .