This is an attempt to start painting again by  studying of observational skills, and I think it's working.  I got the idea of doing this from Hazel Soan's latest book, "Light and Shade in Watercolour".  It's the very first exercise she suggests.
I've painted this window before and was not impressed with the result, but this one is going better – not completed yet, but promising.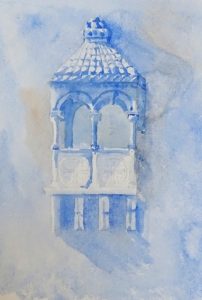 I'm using Cobalt and Burnt Sienna on A3 Kahdi paper, so it's quite big.  The intention is to give room to develop the various tones, and concentrating on the relationship of the tones has taken my mind away from whatever was spooking me.  In fact, I'm rather pleased with it,  but I'm even more pleased that I am keen to finish it.