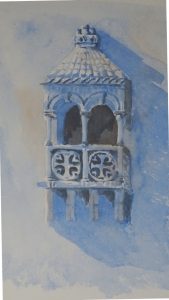 And finish it I did.  A bit clumsy in places, but maybe I'm nit-picking!
I like the freshness of the Cobalt, a beautiful warm blue.  Dilute Burnt Sienna  on the stonework adds its mite to the glow, while the mix gives me a dark which is not too great a contrast to the other tones.  Working this size is a blessed relief as more recent attempts have been a quarter of this size.    The idea of working small was to relieve the pressure of "making a painting".  Frankly, I can "not make a painting" on any size of paper ….. it's a skill I have been developing lately .  So maybe I should stick  to larger sketch pads in future.
This size has allowed me to indicate some of the intricate carving so characteristic of Lisbon architecture of this period.  You have to see it to believe it.  Think of baroque decoration then add more baroque decoration on top!  Every decorative carving is itself decorated.  Even at this size, it's not possible to show all. Tiny shadows, flecks of light, must suffice.