For our third sketching and painting day we met at Erddig, a country house not far from Wrexham.  It was a bit chill and rainy, but there were plenty of nooks, quite spacious ones in fact, to avoid the wind and showers.  The cars, carriages, bikes, trikes, etc., I decided could wait for a brighter day when the displays would be less gloomy, so I headed for the gardens.  Plenty of greens about, but it was the interplay of structure and planting which seemed to respond best to the uncertain light.
I was happy with the sketch I did in the morning.  I had found a relatively cosy seat with places to put my paints and water and was encouraged to dive straight in without any preliminary drawing.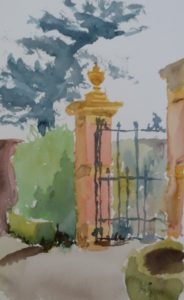 It's amazing what you can do if you try!   Brick and sandstone abound here, making a pleasing combination of colours.  I remember being attracted to them years ago when I first painted in these gardens.  The simple structures of these pillars with their distinctive banding got me off to a flying start and it was just a case of working outward from that firm foundation.  Through the gate, the garden was laid in with dull greens and reds.  These receded under the force of the brighter tones before the gate,  neat box hedging topped by a bright green creeper.  A rather shaky gate completes the sketch.  Considering that I was struggling to find the courage to lift a brush two weeks ago, I feel satisfied with progress.