This term my painting group are examining canals as they wanted to improve on trees and water, and I wanted to add  some interesting shapes.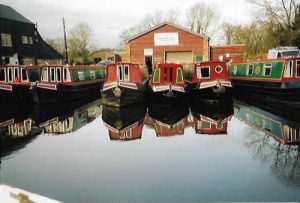 The second boat painting, in acrylic this time, concentrates on the boats and their reflections.  My starting image is a reasonably good composition, though I would want to fade the sheds as they are rather dominant and detract from the collection of narrowboats.
However, my canvas is long and thin, and that encouraged me to crop the image top and bottom and lose most of the boat on the right.  This will place the boats and their reflections in sharp focus.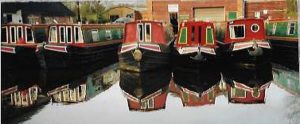 When I come to painting, I intend to blur the shed, trees etc using the tones to show or hide the cabins.  It's all drawn up ready for action.