I suppose it's a small journey from bridges over a river to canal boats!  A watery theme perhaps?
Water colour paper has a big influence on how a painting appears.  I am trying some new paper, much recommended by Hazel Soan, one of my favourite painters.  It's called Khadi paper and I found it in Jackson's on-line Catalogue.  This is hand-made in India, so each sheet is separately produced rather than in a continuous roll using 100% cotton rag.  It's acid free, and has a texture all its own.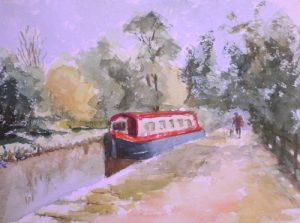 As you can see, it works beautifully for dry brush work, making it easy to create all those broken edged trees and bushes, yet it is possible to produce a smoother wash as in the canal itself.  It bellied quite a bit when I used a very wet wash but reverted to its former self as it dried.
There is more to do – the shadows are too pale for a start – but I like the way it takes the paint.