I was tidying the studio after finishing the big picture and found two efforts that need finishing.  One was fairly recent since it is one of my Australian paintings.  Do you remember the Sandstone cliffs I painted with a palette knife last October?  I mentioned the twisted tree perched on the cliff edge that I was dithering about.  I reckoned that I would leave it till the canvas was dry.  That way I could wash it out if I didn't like it.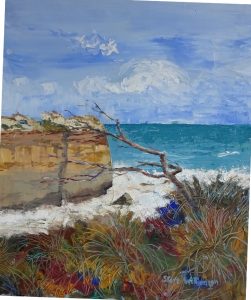 I tried to introduce it using a palette knife, but it was in the wrong place and looked clumsy.  So,I washed it out with turps, just like I said I would.    If I'd done it with a knife when the paint was wet, like the grasses,  it would probably have worked.  A brush worked over the bumps of dry paint, and by introducing purples and blues and maroons throughout the battered, little tree, I was able to integrate the addition into the whole.  Then I darkened the sea at the horizon .  The tree seems to have improved the composition by linking the grasses on this cliff top we are standing on with the more distant ones.
The other finding was a pastel I started as a demonstration for an Art Group in Carrog.  Naturally, I chose to paint Carrog Bridge.  It's such a landmark in the area.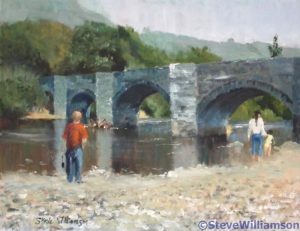 In fact it was the first bridge I painted in my "Painting the bridges of Dee" saga.  This is a view from above the bridge looking downstream from a stony beach.
The pastel view is from the other side below the bridge looking upstream.  Different weather, different view, different medium so we have a different painting.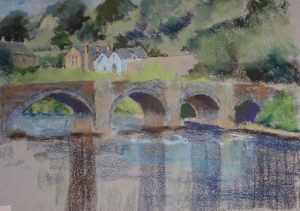 Lots to do.