Looking back at last January's post, I found things I'd forgotten about(!), things still on the "to do" list, and two  completed.
I did finish the portrait, though I am less than thrilled with it, –  competent but uninspired.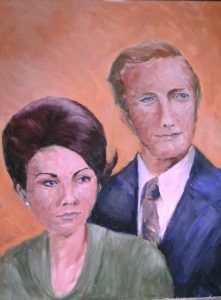 I thought that I could reprise it using mixed media, and I still intend to do so.  In fact I have chosen the canvas and collect potential collage papers. I have even brooded about colour palette.
But the real success of the year has been the improvement in my drawing skills.  This is something that I am truly pleased (and surprised) about, and it is so liberating.  I've been intimidated about drawing all my life and now I fear no more.  That has got to be a result!
This year I am going to continue working with watercolour pencils, but try to use them more freely.  I've got one or two thoughts on how to achieve this but they are still hazy so I will feel my way slowly and hope something clicks!