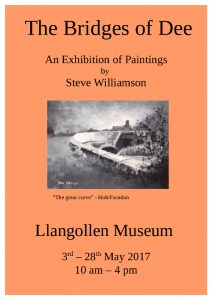 Well, here we are!  Finally I have an exhibition of all the paintings in my book "The Bridges of Dee".  We have lots of guests coming to the private view, and many others coming during May.
This time we have done lots of advertising, much more than I have done in the past.  For the exhibition is not in my home area, and the book sales have been nation wide.  It will be interesting to see if the increased advertising pays off, but I don't mind if it doesn't as it has been a fascinating experience.  Besides Art Magazines and the local press, we have spread posters up and down the valley,  bi-lingual ones too. The paintings encompass the whole valley and there are many people, especially in the upper valley,  where Welsh is the mother tongue.  So this is what it looks like in Welsh and English.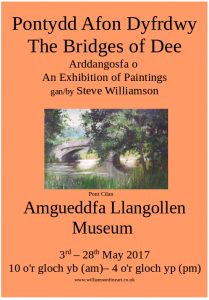 We have printed the sales cards in Welsh and English too, and have separate Welsh and English Catalogues.
The Private View is on the day this post is published, and we have the Mayor and Mayoress of Llangollen coming.   I hope to bring news of the launch party next week.