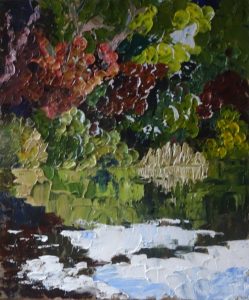 I think I've finished.  I'll need to leave it visible for a week or two, but there will not be any major changes.
The water has "worked".  I'm surprised as still water reflections are smooth and this technique is made of discrete parts.  I'll admit the sky reflected in the water is laid on, more like water lilies.  Within the  limits of this painting, that is acceptable.
Attempting this technique has increased my respect for this artist and my enjoyment of the painting itself.  To see a scene in such clear, shaped colours, while retaining the atmosphere of the sunny, carefree day, is no mean achievement.  Nor is the painter a "one trick pony", as we own another, also created with a palette knife, of flowers.  It couldn't be more different.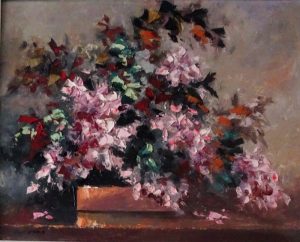 I love them both.