Well, what a surprise!  Since I resumed work on this large painting, I've been pussyfooting around with tentative dabs of paint trying to edge the picture towards completion, focussed mainly on the heads (and Feet!). Today – rain, so no gardening –  with a unexpected feeling of calm, I donned my kit, laid out all (!) my paints and spent a blissful two and a half hours working over the whole canvas.  In truth, I didn't know it was blissful until I put down my brushes, but now I feel I own the painting again.   I don't need to say that I am pleased with the results.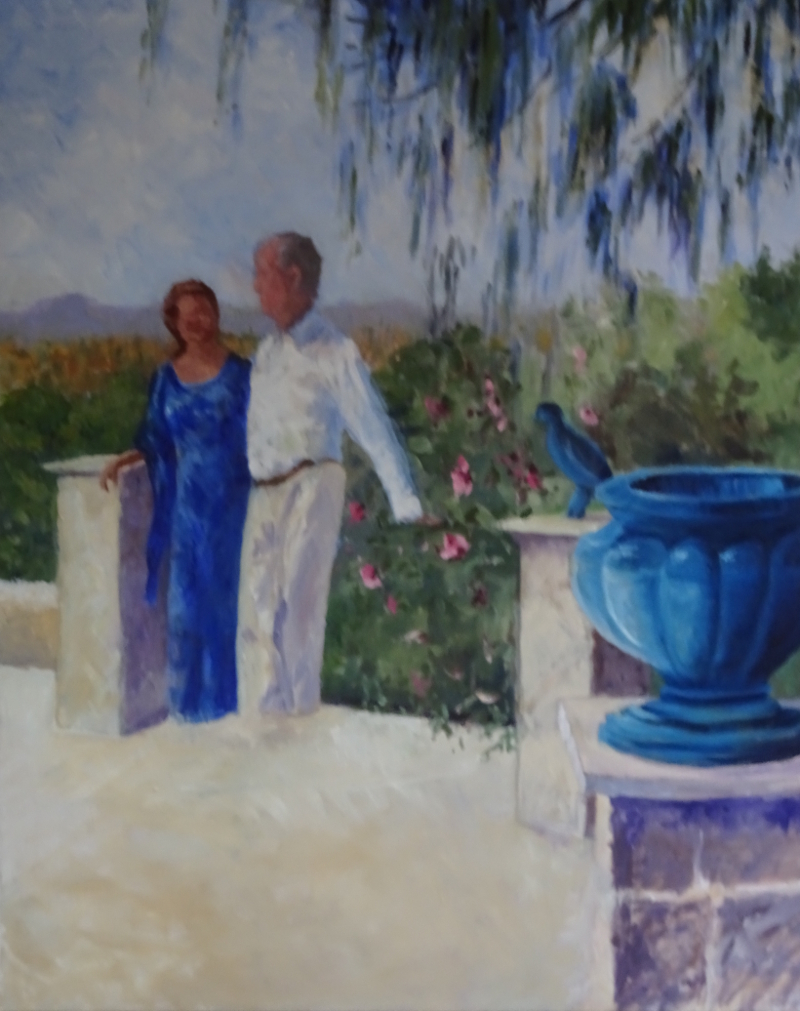 As you can see,  I've darkened the shadows of the pillars, thereby increasing the sunshine; I am thrilled to bits with his pants, and his shirt is better too; Her dress is more shapely and glowing in the light, while her head and shoulders are beginning to resemble her, and her arm has more substance;  a little wall has crept in on the left hand side; pink flowers and green leaves are pushing through the railings;  even the relationship of the two pillars on the right is more convincing.
OK, I chickened out on his shoes.  I'm going to draw them until I know them well enough to paint them.  They are dark on light, but are not, repeat not, the focus of the picture.
The pinks will be picked up  by traces of that colour in her gown.  The railings should figure in places.  The faces need a little more shaping without returning to portrait definition.  I think the orangy/greeny  background behind her head should be lower and more shaped. but all that's for next time – soon I hope.