HGC is giving me furiously to think.  I have redrawn his body and painted and cut it out,   He prowls nicely, doesn't he?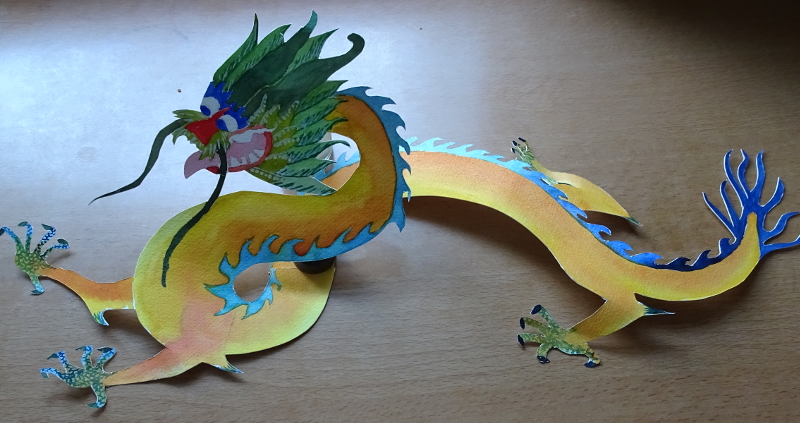 – but not round the lampshade!  Somehow his curves are in the wrong place, though I had planned them carefully.  Also, even though I have lengthened his body, there is still a large gap between his head and his tail.
So, using small masking tape pieces, I positioned his head and his new body on the actual shade and considered my options.
  I could start again.  Ouch!
I could make a whole new tail.  Errr, really?
I could design more connecting pieces  – will this ever end?!!!
Upon reflection, I feel having him in bits makes for easier prowling.  I arranged two pieces of paper (don't ask –  we're on a coolie hat lampshade, remember?)) from the body to behind his head, created a loop of body to hide the first join then a curve to join that to his head part. I've a feeling that with this length of body, he should have more legs.   If this goes on, he'll go twice round the shade and still not be right.   To be more certain that this time I had done it correctly, I cut out the new pattern and tried it on the shade for size.  I am cautiously optimistic.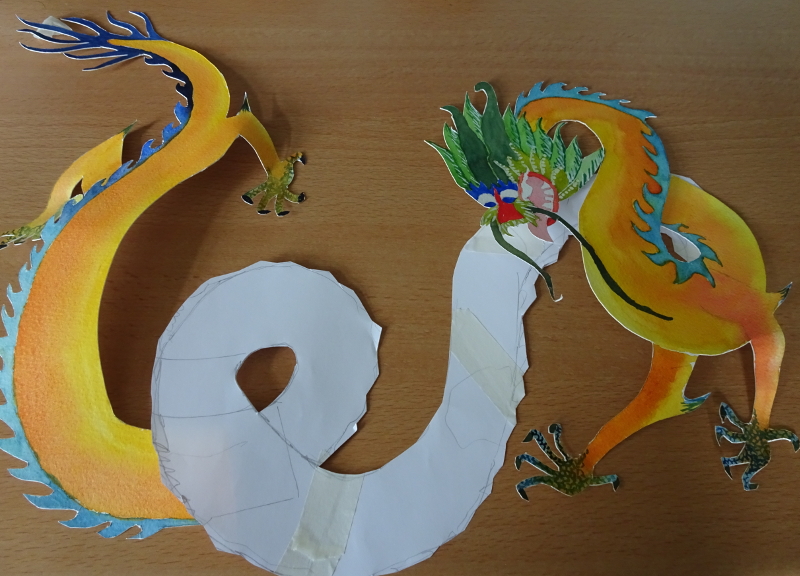 Meanwhile, Teshoo is having his moments too.  Being made into a lamp in the 1930s means he doesn't have anything to do with the metric system.  This is not insuperable, but certainly tedious.  Nil desperandum .