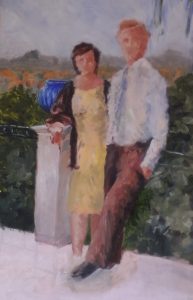 Now I'm working on the figures.  The light is coming from the left and slightly behind the figures.  His shirt is a little tidier and his right shoulder  more visible.  She now has two legs to stand on ( but no feet)  and her cardigan somewhat reduced near his right shoulder.  A suggestion of modelling on the dress is an improvement, and her hair is more like that of the girl I know.  I have made a start on the faces, still very much at the early stage, his face now turned to look at the viewer.
There is still much to do here before I start to attend to details – his legs are wrong, she needs feet, the pillar should be longer and the edge of the terrace sticks out further behind the pillar.  All these things will be sorted.
I've also been working on the big vase in the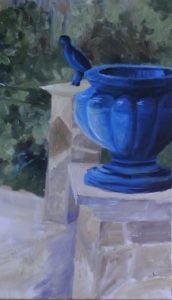 foreground and am very pleased with progress!   It such a wonderful colour (it's more turquoise in the painting), I've been aching to paint it.  The shape is intricate so this is only the beginning but the colours, tones and textures around it make a perfect setting, contrasting rough stonework with smooth ceramic, dark blues and greens and lighter creamy browns.