I worked on her face first in more detail.  If you remember the mouth was very loosely indicated, her nose was twisted, and her hair was a rather dull brown, so plenty to do.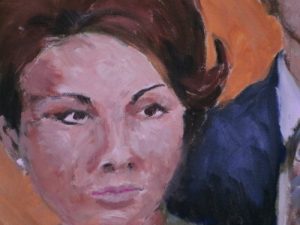 I think I've done reasonable well here – she looks altogether more human.   Although I have made corrections, I haven't lost the vigour of the brush strokes, and have achieved more successful tones.  The upper lip is still too light, and I would like a more nuanced tonal balance around the eyes.
Then, I t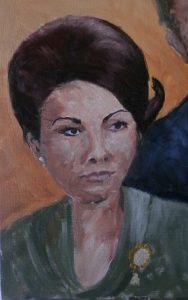 ackled her hair which is more auburn than brown or red.  A touch of alizarin in the mix seemed to do the trick.  I know the hair is a bit dome-like, but that was how it was done in those days – I know, I had one too!  Even so the carefully sculpted side curl is too thick.  It needs to be more airy.
I turned to him –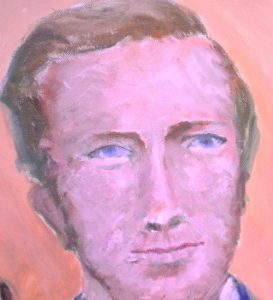 at least he now  has a nose and mouth, and they are believable.   His eyes are still too narrow and almond shaped. The modelling on the face is not that strange colour in actuality ( I haven't worked out the vagaries of my camera yet).  Both faces are still rather flat, so I need to attend to the shading again.  Then there is the matter of making sure they both have space in the painting to be more than cardboard cutouts.  Still progress has been made.