We visited a town clustered around a castle called Verracola that presented a myriad of painting opportunities.  Mike suggested this view, standing with our backs to the castle with the bridge over the stream/river below us.  You could see this becoming a raging torrent in winter, but the colouring was pleasant, the day was warm, and I had an easel to rest my pad on!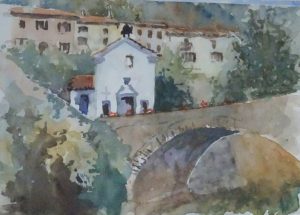 This took the morning to do, and I was beginning to remember technique though still uncomfortable with too much equipment.  The organisation of paint, paint tubes, water pot, brushes,  seemed to be a juggling exercise  though the easel did improve things.  I'm reasonably happy with this painting.  The view through the bridge  needs sorting.  I stopped because I lost concentration.  So I've learned two things:  I need an easel, and two hours is the maximum I can paint for in such a concentrated fashion.
That afternoon, after a splendid lunch in a restaurant in Verrucola that opened specially for us, (the outcome of the contacts The Watermill had built over the years), we returned to the Mill to paint a waterfall viewed from the grounds.  This was a very different plein air experience! We trekked through a small wood to the river carrying our equipment.  The footing was unsure for we were standing on cobbles in the river bed.  The easel stood sensibly as the legs were adjustable but juggling everything else (I still had too much!) and doing a sensible painting  took some determination – not easy after a morning's concentrated painting and a good lunch.  Then it started to rain, and in good earnest, so we retired to the studio.  The trees kept most of the rain off so we weren't drenched.  The watercolour elves have been at this one, which improved as I slept.