This was an adventure!   I have used oil pastels very rarely and with no real success and I'm not sure that I used oil pastels this time either.  I have two boxes which purport to be such but they are totally different in feel and application.  One set (donated) is  waxy, like wax crayons, and one (bought in the distant past about 45 years ago when I thought, from no knowledge, that oil pastels were the natural progression from oil paints ) is like an extraordinarily  firm ordinary pastel.  The two kinds didn't mix.  So I was left with one starter kit or the other of about a dozen bright colours.  The picture is bright so  I used what I had, but am resolving the issue by buying some new ones (Sennelier).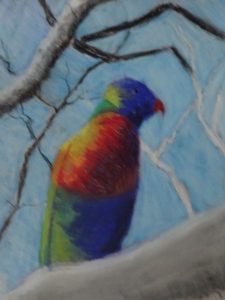 Here is the result.  It looks a bit like a stuffed toy but I may get a more satisfactory result from the new pastels when I get them.   I discovered that I couldn't put lighter colours, particularly white, over other colours.  So I had to reserve lighter areas or do them first. However, the sky  came up beautifully when I scrubbed white on top of the mid-tone blue I had.  The brighter colours of the bird speak for themselves, the grey a mix of white over black.
I enjoyed the performance enough to explore the medium further and am impatient to receive my new ones.