This time I tackled the door.  I should have done the other window first, as leaping around a painting when making the second pass produces "currants in a bun" of detail – not the most encouraging vision of work in progress.  Indeed, I had intended to work on the window in my studio prior to demonstrating in class.   That's good intentions for you!  However, for my class  I wanted to move on to the brick arch and the little wall, so I will try to fulfil my good intentions this week, ready for finishing off next lesson.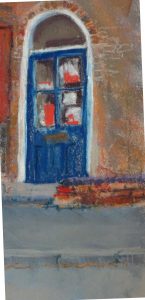 I'm delighted with the pavement edge, just one of those things that pastels do so well,  using a slightly dirty pastel on its edge and making small downward stroke instantly creates the grain and varied surface of the kerb.  A few judiciously placed joins and a sprinkle of the remains of autumn leaves, and there you have it.  The wall above is working  nicely.  One has to put a few bricks in at this definition.  They may all come out of the kiln the same shape, but they are all differently heat marked, and time has added its mite.
The arch of the door also has interesting bricks around it and is a feature worth noting.  It can be difficult to vary such small shapes as there is a tendency in all of us to make patterns even where there are none.  The beauty of pastel is that one can work on top of previous strokes and frequently the meld of colours and shades gives the desired effect.  However, the door frame is leaning over at an angle, and the little wall is going uphill instead of down, things I need to correct before next week!