Oh joy!  Oh rapture! Oil painting again – and I think my burgeoning drawing skills are freeing up my painting arm once more.  This painting is a delight; everything is falling into place, (my happy place!).  I do hope I find the time to finish it soon.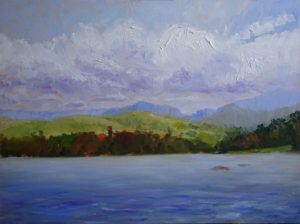 I love the rain cloud approaching from the right, the sunlight hillside, the woods bordering the lake.  It's the lower half of the painting that needs more attention.  It looks like a pine forest at the moment, and most of those trees are deciduous – they would have to be otherwise no dancing  daffodils!
The two smudges in the water will be boats soon, I hope,  with their white masts bridging the line where land and water meet, then some work on the lake in the foreground, and we are done.