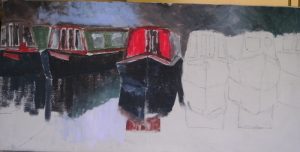 I roughed in the background to help the define the upper edge of the boats and to set the atmosphere.  It's a bit dark, though the blue positively glows in contrast.  I'll think about that while I cover the canvas.
The boats themselves are also roughly painted.  I do like to cover the whole canvas as quickly as possible especially when I haven't toned down the white prior to drawing the image.  Toning down is not quite what I do, for I frequently paint the whole canvas bright orange, such a cheerful colour!  Well, I didn't do it this time so need to accommodate the dominating white as I chose my tones.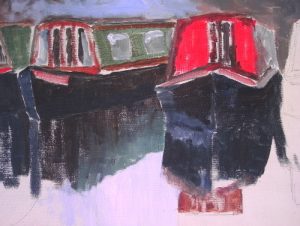 This photo show you how very sketchy the painting is at this stage.  Part of this is the need to cover the canvas, but it also allows me to choose how much detail I want to add later, besides giving me confidence that the drawing is largely correct.  Sometimes I catch just the right brush stroke at this early stage, like the reflection of the side of the green boat,  and can let it be part of the final painting – one of those pieces of serendipity I mentioned when I started writing a blog.