The pockets in the book are very small by my standards, so I thought I'd try portraits in watercolour.   They are largely foreground making such detail as I could manage contribute usefully to the finished painting.  That sounds like a piece of woolly thinking, and it is!  I don't know where I'm going with this.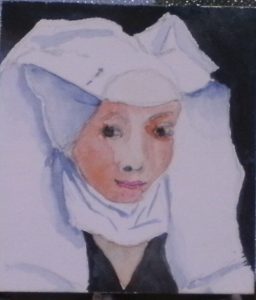 The lady is my first attempt.  She graced the front cover of a book I am reading at the moment, and I loved her headdress.  My new-found courage to pick up a pencil and draw helped me here – none of my usual "crutches" would have worked at this size anyway.  I sketched her out with surprising ease, certainly enough to encourage me to introduce paint.  I enjoyed the delicacy and lightness of touch demanded by working so small. (Sorry to be going on about "Small", but it really is new ground for me).  She looks younger, pert even, in comparison with the original image.
Faces, then are possible.  I own a book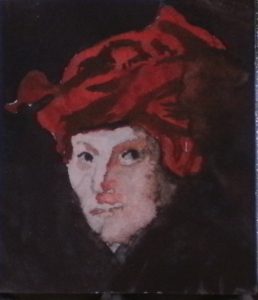 of self-portraits,  "A Face to the World" by Laura Cumming, a great study if you are interested in painting and paintings, which fell open at Jan van Eych wearing his trademark red turban.  This is turning into a "hats" project!  He is contemporary with my lady and very striking.  I really enjoyed his many folded turban.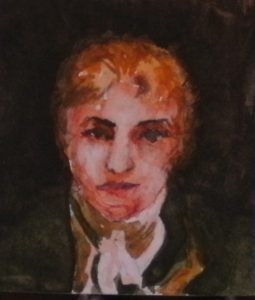 My second painting is a painter, and my favourite of all time is Turner.  I discovered him in the Lady Lever Art Gallery aged about 15, and thought I found an unrecognised genius!  His self-portrait is of his young self and he isn't wearing a hat. It's a very direct stare and as it has good strong shapes making it smaller will be possible.  It's interesting how dark the darks are in these portraits, even on faces.