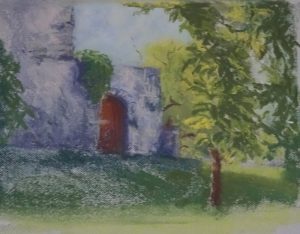 First I needed to deal with the distant hillside.  The pastels I used are too bright though in a good part of the spectrum.   They are a pale blue green, so I chose a pale peach pastel from the other side of the colour wheel, and gently overlaid it, disturbing the underlayer a little so that the two blended.   Now we have a greeny blue hillside that is much reduced in intensity.
The tree in the foreground is an important part of the composition.  Unusually, the leaf shapes are quite distinct.  If you measure one of them against the width of the door, you will appreciate their size too.  Treating them all as "mass" would work, but it is an opportunity to try another way of showing trees.
I selected five greens of the same "family" and added a bright yellow.  My aim was to create some of the leaf shapes on the edge of the tree using differing pressures on the pastel to create the shapes I saw.  There is no need to follow the photo slavishly.  A joyous approximation will suffice.  Where the leaves mass, I have used more solid strokes and scribbles, but broken the edges with more definite shapes.
Looking at the photo of the painting, I notice I have a square tree behind my star performer!  That's for next time.