It wasn't raining heavily on our final day, but a thick mist blanketed the landscape, and we had to paint indoors.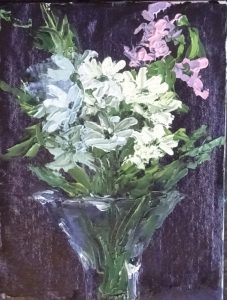 First we painted flowers in a glass vase.    You can't see it but my flowers were too small at first.  This is easy to correct using a palette knife so my variable drawing skills are not too intrusive.  This is a good tool for both flowers and vase, as well as mountains.
Then I was back in my comfort zone, painting indoors from photos! and it shows!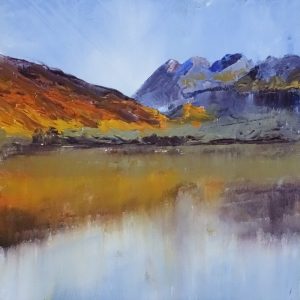 These views are taken from postcards, so I needed to reduce the intense blue of the skies.  Photographers like the mirror image in the lake, but I don't, so I have blurred it;  I created the mirror image, then swept the flat of the knife down from the water's edge.  By using the flat rather than the edge, most of the applied paint remained on the canvas.  (I'd used the edge to scrap off disasters many times).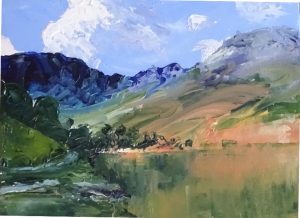 This one pleased me. I'd worked out how to use the direction of stroke with suitably applied tone and colour to give the distant slopes sweep and varied vegetation.  Inside, colour mixing  returned to normal – very strange.