Today we were whisked off to the ruins of an old monastery, closed down in the 1500s I think, and now privately owned and run as a wedding venue.  The Cloisters were still intact and made a cool and complex place to paint.  Again, they had been opened for us only.  The interest lay in the interweaving of the curves of the ceiling and the pat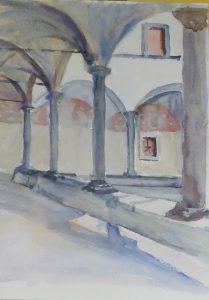 terns of sunlight and shadow.
I think I lost the plot here, as the colours look cold and uninviting.  Painting from life on this occasion gave me a more grey palette than I would have used, had I thought about it a bit more.  Had it been a photo, I would have used Ultramarine Violet as my base for the shadows.   This would have helped to differentiate the blue grey flags in the courtyard, and pillars, too.  The floor was much warmer too, being faded red tiles, some of them whitened with age.    It's a difficult drawing, though, and I think I won there.
We had a splendid picnic, beautifully laid out in the loggia of the monastery  taking in the sun and the wonderful views, then returned to the Mill  to paint a "personal choice".  I returned to the river, where the rushing milky water and the exposed pebbles had interested me on our first visit there.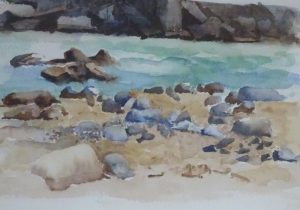 I'd learnt some sense by this time and the equipment I carried was considerably reduced – my smallest water pot that sat neatly in my paintbox, (I'd taken out the holder for paint pans), half a dozen tubes , two brushes, my watercolour paper pad, a paint rag, and an easel.  I hadn't appreciated how much I used the paint rag to control the amount of water in the brush, and found a convenient place for it at the top of the easel, both hands being fully occupied.  I enjoyed this experience but had to stop after an hour and a half as my concentration slid away.