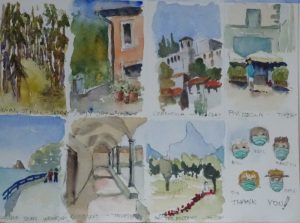 The above diary doesn't begin to explain the deep delight of a painting holiday at The Watermill in Posara, near Pisa in Italy!  Just seven small pictures chronicle seven days of adventure with brush and paint in the great outdoors.
My purpose was to find out what was needed to successfully paint outside,  and indeed I fulfilled that purpose, due in no small part to the comprehensive but unobtrusive organisation and care of our hosts, and the focussed help of our tutor.    It was a working holiday – there was no doubt about that – two paintings at different sites every day, and the sites so varied, mountains, sea side, villages, cloisters, hill towns, fast flowing rivers.    But such was the level of planning, that the biggest non-painting decision I had to take was whether to red or white wine at dinner, real bliss to be able to concentrate on painting alone.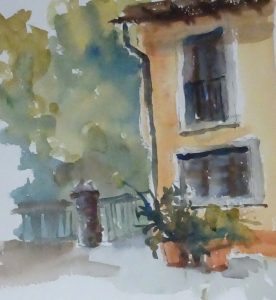 Day one, and we were painting in the courtyard of the Mill itself.   This is the corner of one of the buildings that surround it, a beautiful golden render (Quinacridone Gold and a touch of Orange) with big shuttered windows.  It was a baptism of fire, straight in, no drawing, don't spend too long at it – exhilarating.  I did more than one but this is the best of the bunch.
Then, after  lunch, we were up a grassy alley to paint some of the houses of the village.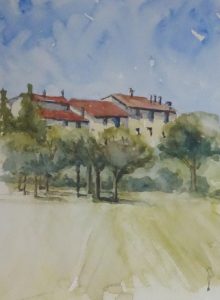 Here is a longer view, a more considered painting.  I think you can see I was struggling to cope with water, paint brush, paper and easel! In fact, I forgot how to paint!  Colour mixing ideas went out of the window, brush strokes didn't exist.  Nothing seemed to be where it usually was when painting at home.  It took me a day or so to  realise that I had taken too much equipment with me.    By the end of the week, a big pocket, rather than a big bag would hold most of what I needed.