I'm back in Australia, where I was a year ago today, though this scene is from later in the holiday.
Part of the holiday was a train ride on The Ghan – my bucket list isn't very big, but this trip was definitely on it.  We started in Alice Springs (see "the Red Desert" from January of this year) and The Ghan took us North, eventually  to Darwin.  On the way, we spent half a day gliding down Katherine Gorge, cool on the water.  Lots of Geology! and here is some of it.
I love the colours in the rock, this sheer cliff face faceted and patterned, crying out for watercolour.  I had an idea that the myriad undercuts would work well using the deeper colour which gathers at the base of a stroke as the defining technique.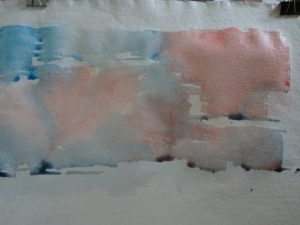 As you can see, the idea had merit, but … there is always a but! I left the piece to dry unattended, the paper cockled, and my beautiful undercuts cauliflowered, every one.  "I think I'd better think this out again."  The answer seemed to be to put in the deep undercuts by hand and run a wet brush underneath them when they were damp but not watery.  I hope that description makes sense.  It  probably will when you see the next photo.  Then I used dry brush to indicate the lesser variations .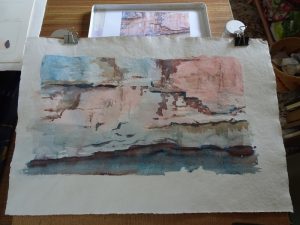 If you look just above my painting you will see the photo I'm working from.  At the bottom of the painting you can just see the shape of the two canoeists passing a very deep overhang, and the water itself is still to come.