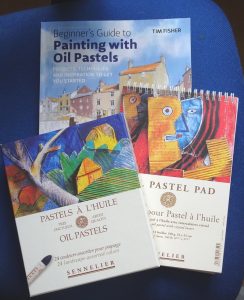 Well!  They're here.  The SAA never take long to deliver.  I only ordered these yesterday.
It's official.  The more waxy pastels are the real thing, not the ones I used in the Lorikeet.  What those were, I don't know except that they were sold to me as oil pastels. They weren't dusty but they did throw a sediment which slid floorwards.
To pastures new ….
The book, " A Beginner's guide to Painting with Oil Pastels"  is highly informative and very easy to follow.  I don't know how far I'm going with  this medium. The list of possible additional materials and tools numbers 23!   Nor do I know if  they will dent my love affair with soft pastels – somewhat unlikely, I should think.
A quick glance through the book told me what I know from other art materials.  There are varying degrees of quality in the pastels themselves.  Tim Fisher, the author, uses Sennelier (hurrah, that's what I bought) which are more malleable.  The good news is that the pastels work on most surfaces –  including plywood, canvas and aluminium panels  – but Tim prefers Framers mount board.
However, before I launch into this new medium, I must answer the call from "In the sunshine"  and re-visit the south of France.