I have just returned from a two day watercolour course with my favourite painter, Hazel Soan.  She is just as good a teacher as she is in her DVDs but the addition of her driving energy and high expectations made all twelve of us make more paintings in two days than I would have thought possible, at least eight full pictures each.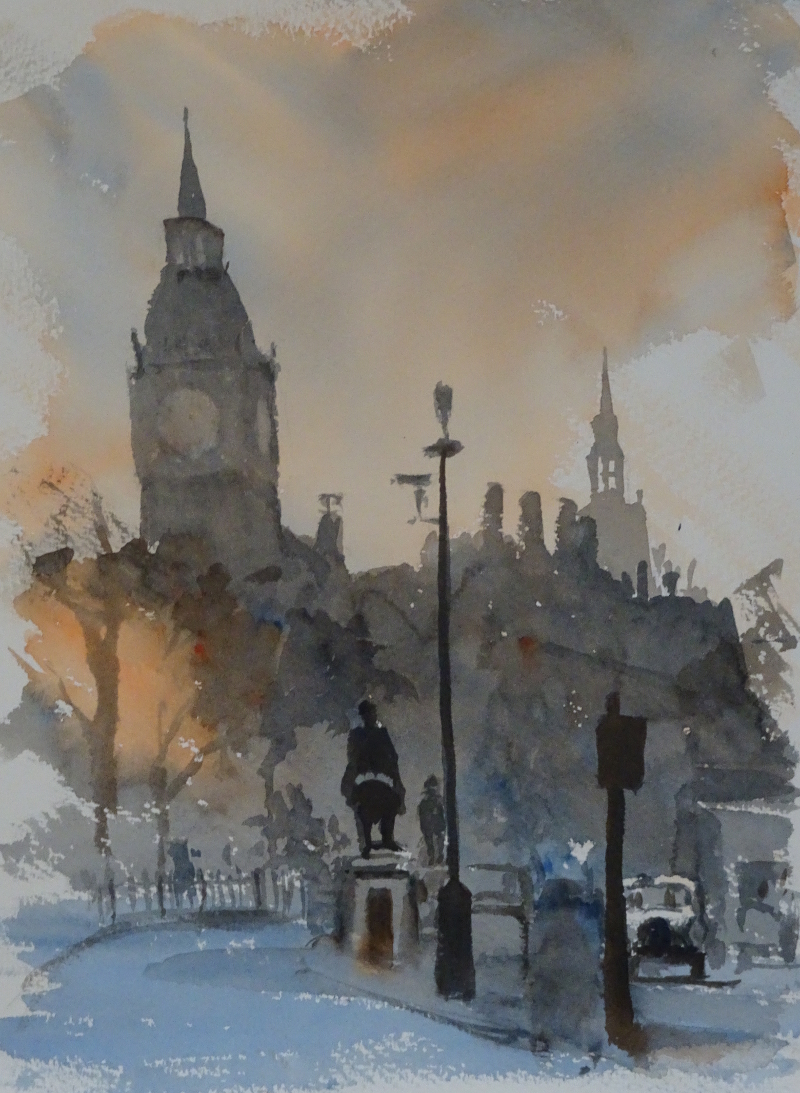 All the sessions showed how to simplify the scene, how to achieve results quickly and easily, so that the spontaneous nature of the medium was not compromised.  Each focused on a different aspect, beginning with the importance of  of tone to show perspective.  The London shot of Big Ben silhouetted against an evening sky (transparent orange and ultramarine blue only) encouraged deepening tones as we moved forward.  I was chuffed with the taxi!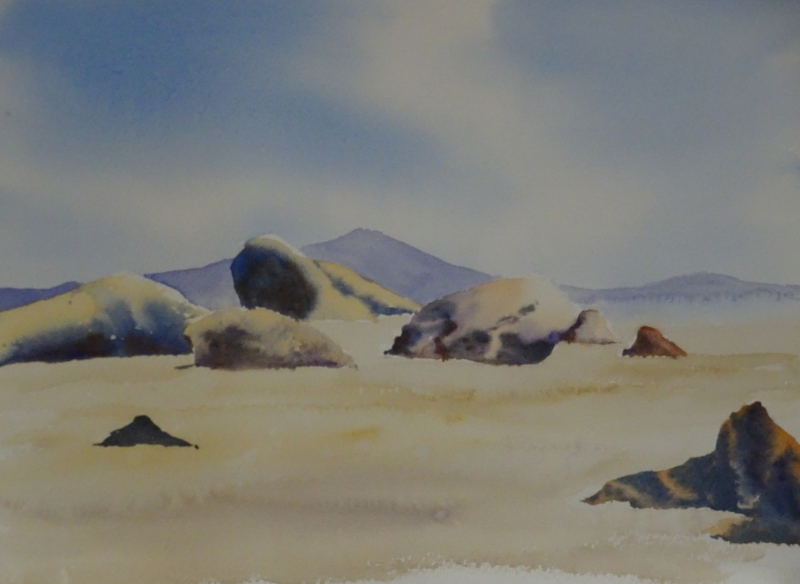 Then we moved on to tone creating three dimensions – wet in wet  and wet on dry, soft and hard edges.  I think we all did pretty well on this exercise as the scene wasn't complicated, each rock having its own attention.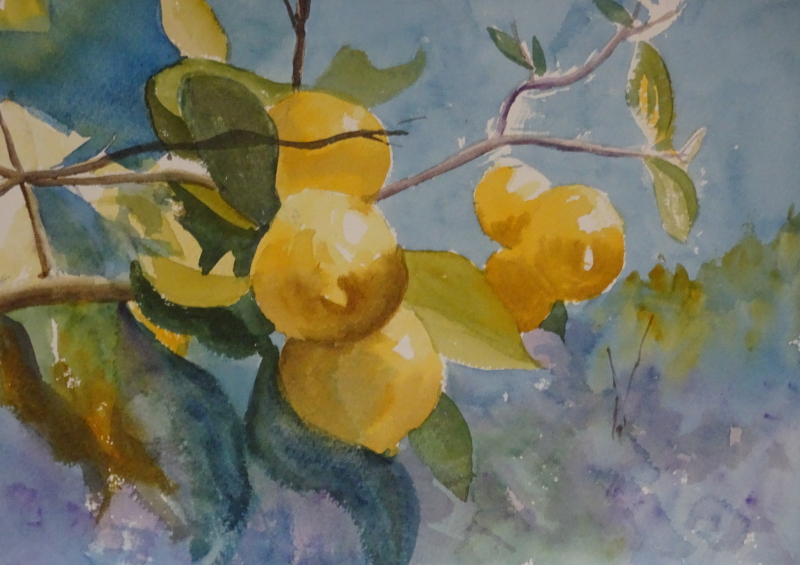 On again,  this time to lemons ripening on the tree, more rounded forms and a plethora of leaves .  This time the paints were aureolin, indian yellow, violet and prussian blue.  The fruits were relatively easy, wet in wet, using the two yellows and violet.  I came apart on the leaves, losing the freshness, battling with the age old conundrum of pigment to water ratio.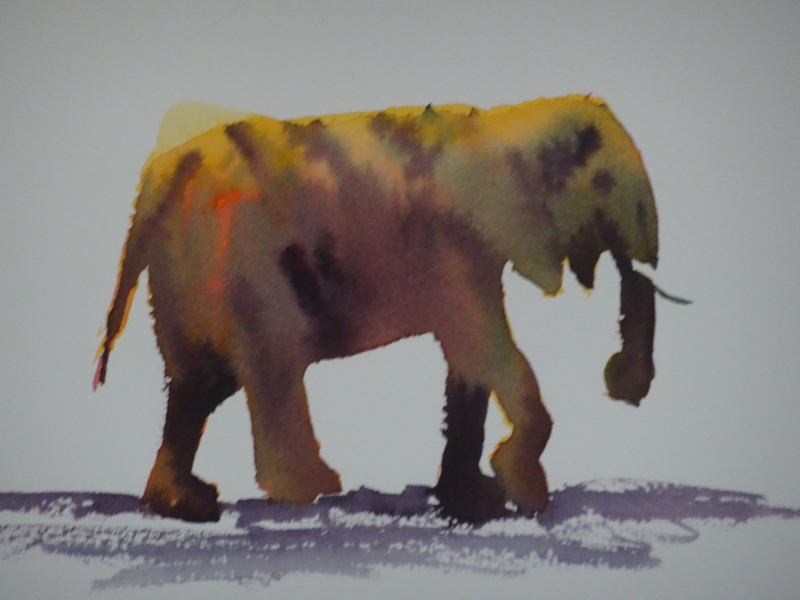 Finally, released in to ele-land!  These three-colour elephants were one of the first things I tried when I discovered Hazel's DVD's. It is sheer magic to watch the pigments merge on the paper and give you a credible grey or brown beast.  And it doesn't just have to be elephants!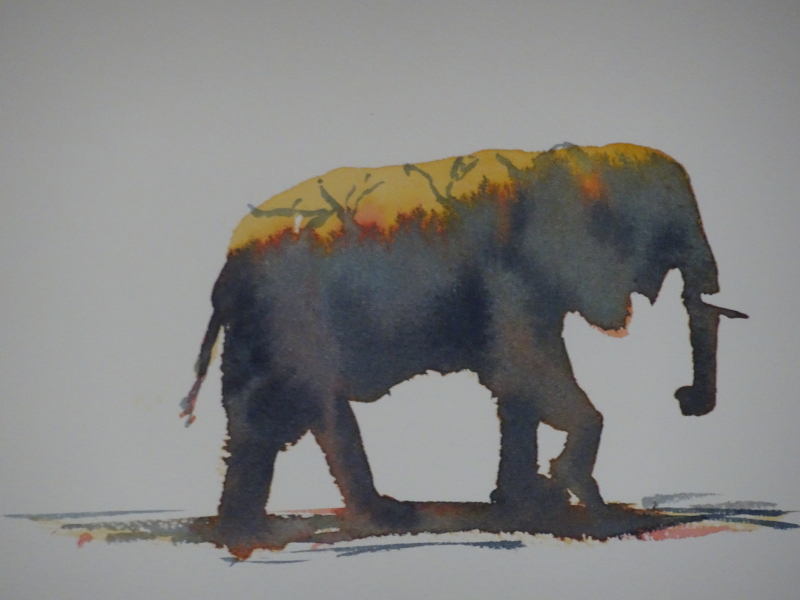 First we created the shape in the chosen yellow, anything from ochre to lemon, introduced the chosen red into the wet wash , alizarin to cadmium, from the ground so that it bled upwards, then introduced the blue in the same way, prussian, ultramarine, whatever!  Finally just as it was just damp, a mix of all three indicated the final shapings.  Of course the chosen three colours will serve to create the background too.
So ended the first day.