I found the instructions for this delightful little book with pockets on youtube (here), and as I was painting small for the SAA Wall, saw a place to hold my own small treasures.  Then I saw that the construction would allow me to design a Dragon to guard them.  He would wind round the meandering strip nicely – but I'm getting ahead of myself. That's a future project.  So here is my first attempt.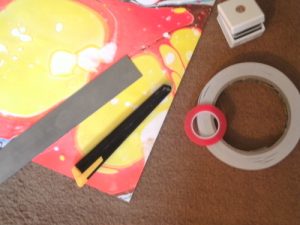 I used a sheet of marbled paper I had made eons ago on cartridge paper so it's quite stout and will hold its shape easily.  Folding the paper correctly was easy, but working out which edges to stick to make the little pockets was a little more complicated.   I have a little tool which cuts the half moons in the top of each of the seven pockets neatly,  if not always in the right place.  Book cloth from the same era as the marbled paper covered the outside (strengthened by card) which I decorated with circles cut from the paper offcuts.  It's a nice little tool and I was enjoying it.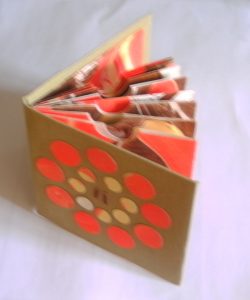 Now I need to paint seven small treasures –  a good discipline as I usually paint big.  Seven is a number to conjure with- seven days in a week, seventh month of the year (July holds my birthday), the seven stars, or making it easy, seven small paintings I'm pleased with.