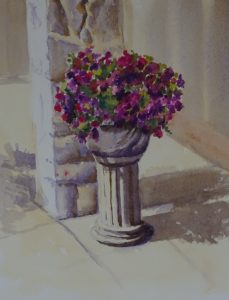 The first task was to complete the flowers. I used the same colours and technique as before.   It truly was a mass of exuberant colour so I didn't try to differentiate the individual flowers too much, relying of light and shade to give vitality.
The pillar now looked too mauve in comparison to the pot and its stand, but that was soon corrected by a light wash of the Ultramarine Violet and Yellow Ochre mix and the introduction of that mix in a deeper tone in the darkest of the shadows.
I thought about making more of the setting, but decided against it.  It was sufficiently indicated to provide a backcloth to the main actors.
I'm reasonably pleased with this – flowers were never my favourite thing, and this is a more coherent attempt than the first one I showed you.