This is a re-run of last week's session with my class.  This is such an easy way of simplifying a given scene – taking one aspect of the image at a time.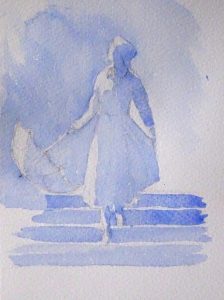 A simple outline of this dainty lady with her parasol, face lifted to the sun, has all the shadowed area shaded in pale blue.  We are all told that achieving pale colours in watercolour is to have a high ratio of water to pigment.  The danger is that we have so much water swimming around that it becomes impossible to control.  The answer is to mix your pale colour on the palette,  remove excess water from the brush by resting it on a towel or tissue, then dipping it in the pale mix.  It works – it's taken me a long time to work out,  but it has removed the hit and miss efforts of past years!
By doing this, the light has been "saved", as have areas where "true" colour is needed, but the shadows are in, and the picture already reads.  Putting the colour on is sheer magic.  Here she is, dancing down the steps.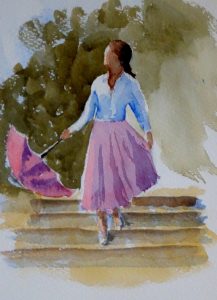 The Permanent Rose was washed over the whole of the skirt, and the light and shaded parts appeared without further effort.  The steps, after their colour wash,  had the shadows strengthened, and the dark background projects the figure forward.
It works for more complicated scenes, too.  Here are a group of railway enthusiasts, cameras at the ready, as the locomotive approaches.
It doesn't read as well as the lady, but I think it is clear enough, especially with a photo crib to introduce colour.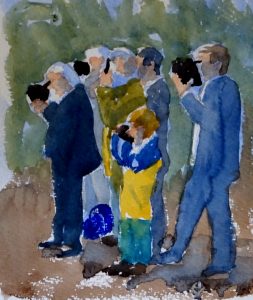 Even is this unfinished state , the figures read well and you have time to devote to colour because the shadows are already worked out.