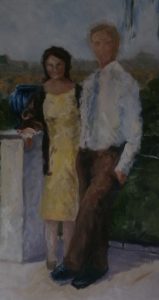 All my photos are turning out dark at the moment, whether I use flash or not, But I think the basic shapes are visible.
After a hard stare at the painting and at the photo of a stand-in, I came to the conclusion that his back leg wasn't supporting his weight.  When I think how many times I have corrected this error in my students' work, I cringe that it took me so long to spot it in my own!  Still, he looks more comfortable now, and she has somewhere to stand. Even so, her legs are now too long, and a bit like tree trunks.
It is less clear that I have done some work on the faces.  There are difficulties here.  The painting is very loose, so I don't want to make the features too precise, but a reasonable likeness is essential.  Moreover the size of each face is only 9 or 10 cms so the inclination is to use a small brush which in turn can lead to finicky brushwork precluding happenstance.