Over the years since my daughter, Rachel, was born, I have always included a mock stained glass window among the Christmas decorations.  The first window was  small, just enough room for the Virgin and her Child, but moving house meant I needed a new design for a bigger window.
The first one was a straightforward representation of the Holy Family, but it was only made of paper and soon disintegrated.  I wanted something a little more sophisticated, more mature, less Victorian.  I was doodling design ideas, looking for something pleasing to the eye, using circles to indicate the haloed heads and sweeping lines for the robes,  when I suddenly realised that I had my design.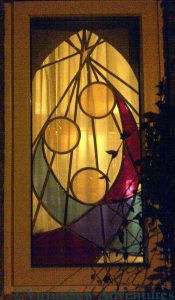 Careful arrangement of the "glazing bars" created the star, and there it was.    This time I made the frame and those glazing bars out of heavy card and the window is still with us, coming out every Christmas.  The sunlight coming through the "glass"  throws beautiful patterns on the carpet, and the house light illuminates the design for the outside world after dark.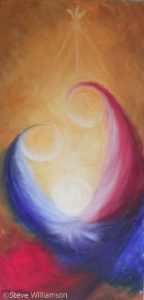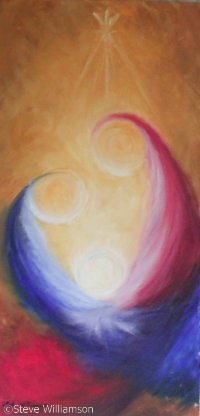 A few years ago, I was asked to paint a picture for a themed exhibition celebrating any special day,  I chose December 25th and used my window design as inspiration.  The picture took over as I painted and instead of the protective impression of the original design, I found myself painting a great burst of light emanating from the Child, The Light of the World.
Then Rachel took the design and explored it in her embroidery world, – blog.virtuosewadventures.co.uk.  Again an different ambience appeared, a sense of quietude,strength, and purpose  – this was all getting very interesting!
Now I need to introduce another strand in our Christmas preparations – Christmas cards.  For some years now Rachel and I have been using our work as designs for these cards, she with embroidery – and myself with paint.  These two interpretations were among the first – others have included a Christmas Tree angel and a chorus of angels.  This year we have nearly enough from past years to send to our friends this year but are short of a dozen or so.  I'll tell you what we did next week!